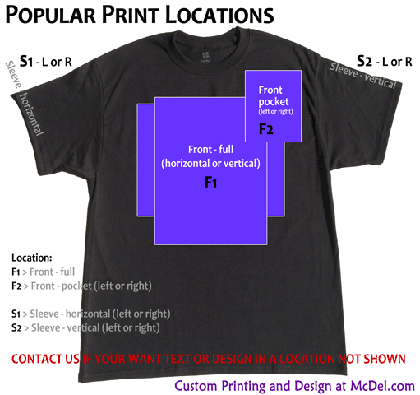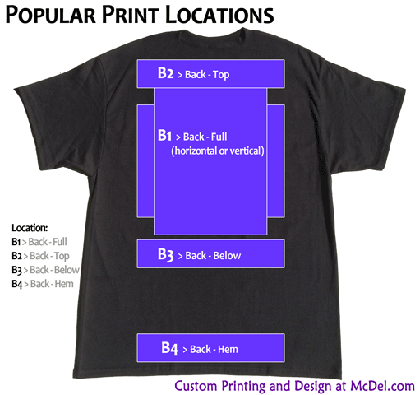 Unless otherwise indicated, any image or text uploaded to customize any apparel except zip hoodies will be placed on the front of the shirt in location F1 or F2, depending on size of graphic submitted. Standard placement for zip hoodies is B1 or F2, depending on size.
One image, one location, up to 10.5"x16.5" is included in price charged in shopping cart.
For additional images/text, font choices, and alternate or additional locations, please upload images and/or tell us what you want here.
Please include order number.
Any additional customization options are billed AFTER designer verifies your requests.
About our Decoration Methods
We use both Dye-sublimation and Heat Transfer Vinyl (HTV) methods to customize your items. Unless a specific method is requested, we reserve the right to use whichever will produce the best results for the apparel you've chosen.
While McDel specializes in full-color images on your apparel, some designs call for single or "spot" colors.
Your designer may contact you with additional options, depending on your design instructions.
Additional Locations - Prices
Additional location charges are per item.
Personalization using HTV - Additional locations>sizes:
S>up to 1.25"x8">add 2.50
M>up to 5.5"x7" (horizontal or vertical); or 1.5"-2.75" x up to 14" >add 3.00
L>up to 5.5"x14" or 7"x11" (hor or vert) >add 5.00
XL>up to 11" x 14" >add 8.00

Personalization using Dye-Sublimation - Additional locations>sizes:
S>up to 4"x5" or up to 1.25"x8">add 2.50
M>up to 5"x8" or 4"x10", or 1.5"-2.75" x up to 10.5" > add 3.00
L>up to 5"x16.5" or 8"x10" (hor or vert) > add 5.00
XL>up to 10.5" x 16.5" > add 8.00