100's of items to give as gifts, wear, carry, use, decorate your home and office, spoil your pets...
1. Choose a
Love Matters™

design or
2. Use your art/photo/logo
3. Choose what you want us to print it on!
3. Shop online.
or call
970-208-3348
View List of Items Available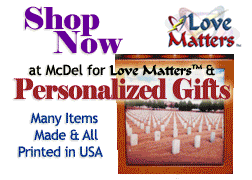 2. Use Your PHOTOS, Designs

to create

Custom Photo Gifts, Gear & More
WHO CAN WE HELP YOU THANK, ENCOURAGE, or MOTIVATE?
All items printed in US - most in Grand Junction, CO. Many items made in USA.


1. Love Matters™

Motivational Gifts & Gear

(Can add text to personalize many designs)

View design catalog (pdf) or
View by gallery:


Love Matters™ Design Galleries
Original Designs, Photos & Art
Order
Love Matters™

gifts online or call 970-208-3348

Additional US Designers Featured
in the McDel Web Store