Magnet - Beyond Reason LockerMag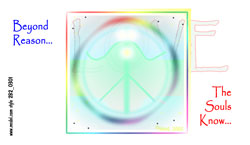 Beyond Reason the Souls Know.
Beyond Reason - 2"x3.5" flexible magnet
Call it what you want - a flex mag - a LockerMag™ - a refrigerator magnet - this motivational magnet is designed to lift your spirits! Get inspired! Get motivated!
Original design by Love Matters™.
Software: ClickCartPro, Copyright 1999-2018 Kryptronic, Inc. Exec Time: 0.195849 Seconds Memory Usage: 2.17231 Megabytes